| | |
| --- | --- |
| | |
Sun. June 24th
7:30 doors at 7:00
Seekers and Seers
Ensemble Laude
,
Anne Glover
,
Douglas Hensley
,
Kelby MacNayr
$20/$25 door/$15 student/under 13 free
Ensemble Laude
Choral from Victoria BC
Ensemble Laude, directed by Elizabeth MacIsaac and Carolyn Howe, is an award winning women's choir founded in 1998. They enchant their audience with a creative blend of medieval repertoire and contemporary choral works from around the world. In 2015 they won Second Place in the national CBC choral competition and in 2016 represented Canada at the international Choralies choral festival in France. In 2018 they will be featured at the national Podium festival in St John's NFL as a Spotlight choir.
No audio samples have been linked to this profile.
Videos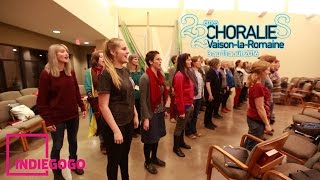 Posted: Nov. 27, 2015
Filmed: Nov. 10, 2015
No member roster has been entered (to link to musician profiles.)
Status:
Available for Shows/Gigs
- Last confirmed Oct. 31, 2017