| | |
| --- | --- |
| | |
Pigeon Hole
Label:
Sweatshop Union
from Nanaimo BC
Pigeon Hole are founding members of west coast hip hop's acclaimed Sweatshop Union.
Prior to forming the group, Dusty Melo and Marmalade became established on the west coast doing shows, rapping on compilations, and releasing albums independently. By the late 90's they had created enough hype to secure a position in the Vancouver underground.

Wanting to reach a bigger audience Pigeon Hole, along with several other Vancouver based groups, formed the 'Sweatshop Union'. The groups self-titled CD was released independently in 2001 to critical praise throughout the province. This, combined with the their energetic live performances, created a word of mouth that led to the group being signed to Battleaxe Records in 2002 and distributed worldwide.

After landing a nationwide distribution deal through EMI Canada, Sweatshop Union released their second full length LP 'Natural Progression' in 2003. The album became popular at college radio and spent 3 months at #1 on the national college radio hip hop charts. It also received numerous award nominations across the country, and in 2004 - a Juno nomination for best Urban album of the year. Pigeon Hole and the rest of Sweatshop Union had now become the second highest selling independent Canadian rap group of all time.

2004 and 2005 were busy years for the group. As members of Sweatshop Union, Pigeon Hole had successfully toured across North America as both headliners and as opening support for Black Eyed Peas, De La Soul, Jurassic 5, Moka Only, Blackalicious, Talib Kweli, and Swollen Members. In 2005 they released 'United We Fall', Sweatshop Union's most ambitious album to date. On top of being skilled vocalists, Pigeon Hole proved themselves accomplished producers, programmers, and musicians, producing a third of the songs on the album.

Currently, Pigeon Hole are finishing a full-length album and are creating a buzz releasing underground mix tapes and appearing on other projects. They are planning tours nationally and internationally - spreading both the name, and their unique blend of energetic feel-good hip hop. So, while the momentum grows, stay tuned as a talented new group emerges out of the woodwork of Canadian rap music.
No audio samples have been linked to this profile.
Articles
Videos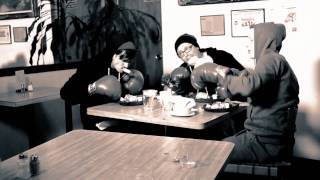 In this Video
Artist(s)

Pigeon Hole
Posted: Jan. 31, 2014
Current Lineup
| Name | Role | Dates |
| --- | --- | --- |
| Dusty Melo | MC | |
| Marmalade | MC | |
Status:
Unknown
- Last confirmed Dec. 6, 2006