Sat. August 29th 2020 - Sat. August 29th 2020
@ Live Stream from The Swamp Day 1!
(All Ages)
Victoria Ska & Reggae Broadcast System is excited once again to bring you more great performances as we come closer to the end of this summer. This time we'll be bringing you a live stream from the Swamp on the lands of the W̱SÁNEĆ here on the Island featuring five acts over two days. Batuque Axe, Buckman Coe, Downtown Mischief, Babyface Brass and Mo Moshiri w/Grossbuster will be our guests of honour. The musical range of this next broadcast will feature Brazilian samba and capoeira, reggae, soul, funk, hip hop and jazz. Also as we presented last time we'll feature live painting as part of our broadcast.
On Saturday, August 29th from 3:30pm - 7:30pm (approximately) we will be broadcasting Batuque Axe (Victoria), Buckman Coe (Vancouver) and Mo Shishi w/Grossbuster (Vancouver Island). Live painting by Kevan Hayward will also featured.
On Sunday, August 30th from 3:30pm - 6pm we will be streaming Downtown Mischief (Victoria) and Babyface Brass (Vancouver).
The streams can be viewed on our web site
http://www.skafest.ca
, facebook.com/victoria.ska.fest and youtube.com/c/VictoriaSkaReggaeSociety
Reviews
No articles have been linked to this profile
Batuque Axe!
(Samba/Reggae/Capoeira)
Axé Capoeira has lit up the stages of Folkfest and the Latin-Caribbean Festival over the years with driving rhythms, beautiful melodies and captivating performances of traditional Brazilian dances and the Afro-Brazilian martial-art, Capoeira. Performances offer a glimpse into the rich cultural world of Brazil with the participation of the group'...
more info
Buckman Coe
Buckman Coe is one of the most interesting and captivating artists in Western Canada right now. London born and Edmonton raised, Coe has made his name with crafted, folksy reggae songs about love, life and the path of enlightenment. His journeys have led him to a degree in economics and geography, as well as studying psychology at Naropa University...
more info
Grossbuster
(Instrumental Beats)
After years of performing with touring bands, a solo project involving a midi controller and chopped up samples resulted in Grossbuster. He quickly joined the internet based beat collective Pragmatic Theory (UK) and played his first show in May 2013. In less than a year, Grossbuster has opened for Redman, Bun B, Jpod, Freestylers, Sweatshop Union, ...
more info
Videos of this Event
Posted: Jan. 6, 2021
Filmed: Aug. 29, 2020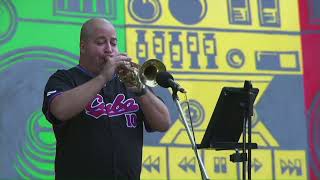 Posted: Aug. 31, 2020
Filmed: Aug. 29, 2020