| | |
| --- | --- |
| | |
Batuque Axe!
Samba / Reggae / Capoeira from Victoria BC
Available for Shows/Gigs
- Confirmed:
Aug. 27, 2020
Axé Capoeira has lit up the stages of Folkfest and the Latin-Caribbean Festival over the years with driving rhythms, beautiful melodies and captivating performances of traditional Brazilian dances and the Afro-Brazilian martial-art, Capoeira. Performances offer a glimpse into the rich cultural world of Brazil with the participation of the group's most renowned international stars.

Here is a chance to get up close to the music, and get down to the beats of Brazil with tunes provided by Batuque Axé, a twelve-piece band with very Special Guests. When the irresistible rhythms reverberate through the room, it's nearly impossible not to dance
No audio samples have been linked to this profile.
No member roster has been entered (to link to musician profiles.)
Videos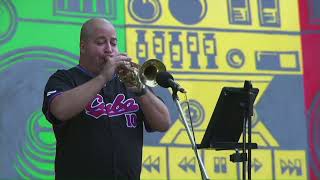 Posted: Aug. 31, 2020
Filmed: Aug. 29, 2020
Status:
Available for Shows/Gigs
- Last confirmed Aug. 27, 2020