| | |
| --- | --- |
| | |
Sun. September 29th 2019
East Meets West
Symbiotics
Symbiotics
Intercultural from Victoria BC
Available for Shows/Gigs
- Confirmed:
Mar. 16, 2021
SYMBIOTICS are a Victoria BC based intercultural music group that includes Sarah-Hannah Bedard (Vocals, Ukulele and Tambura) Stephanie Khoury (Vocals, Electric Guitar and Tabla) and James Hamilton (Vocals, Sitar and Acoustic Guitar). The group started off as a cover band. It then branched out into the original concept playing Indian instrument-based renditions of the same cover tunes merged with Indian Ragas.

Depending on the given venue, their performances can include cover tunes and/or the Indian instruments rendition of the same.

Recent and upcoming performances include:
39 Days of July Festival in Duncan - July 25th
India Mela at Centennial Square - August 17th and 18th
St Mary's, Oak Bay - September 7th
Duncan Showroom - September 29th
No audio samples have been linked to this profile.
No member roster has been entered (to link to musician profiles.)
Videos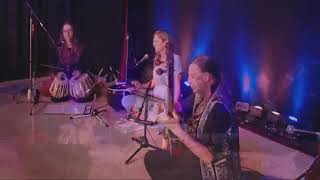 Status:
Available for Shows/Gigs
- Last confirmed Mar. 16, 2021