| | |
| --- | --- |
| | |
Fri. November 25th 2016
Van Damsel
,
Hawking
,
Vaultry
Fri. July 29th 2016
Vaultry
,
Air Combat
,
Bodies
,
Anchorage
Vaultry
Label: Unsigned
Melodic Rock from Victoria BC
It's very rare that a group of musicians gets together and pursues a vision that is as focused as VAULTRY's charismatic, emotional, and melodic sound. This Victoria, BC based Alternative Rock band prides itself on its atmospheric textures, passionate vocals, and relentless rhythm and drum sections. Forming in 2014, Vaultry have developed a brooding, vocal-driven indie rock sound, backed by captivating emotional hooks, and a giant anthemic score. The band has just release a new album tilted 'Eulogy' as a follow up to their 2015 EP: 'Coven', as a dedication to their late guitarist Chasen Fraser. The group has spent the last few years gathering an expansive and dedicated fan base both locally and internationally, performing around Vancouver Island and the Mainland with plans to tour Canada in Summer 2017. The band has a strong belief in community and treats every fan like they are part of the VAULTRY family.

VAULTRY's latest release 'Eulogy' tells the story of Chasen's life, growing up transgender and ultimately being diagnosed with Cancer at the age of 25. The remainder of the album is written from the perspective of the band as a reaction to their grief. The album is a collection of songs written in the last few months of Fraser's life with vocalist, Leith Hynds, with highlights including the track 'Hospice', which was written at Fraser's hospice residence at Royal Jubilee Hospital in Victoria BC. The remainder of the tracks were written by the band upon his passing.

'Eulogy' marks the addition of guitarist, Damian Anthony, and drummer Skye Mclean, who both performed on Vaultry's 2016 single: 'No Victory'. The album itself draws influence from the pop punk records that Chasen was nostalgic for in his youth, as well as the modern Post-Rock and Electronic sensibilities that vocalist/producer, Leith Hynds, is influenced by. The band has evolved to have an entirely sung and spoken word vocal style, abandoning the heavy punk and metalcore sound of their last release, 2015's 'Coven'.

"whether it's in an echoing venue or a tight-packed community room, vaultry brings a sound to hit you in the chest. with monolithic guitar riffs, gut-wrenching vocals and an impeccable beat, Vaultry is a must-see in any form."
— Max Monday, CFUV 101.9 FM Campus & Community Radio

"Eulogy gives off a great sense of what direction Vaultry are going for and I personally think it's the right direction."
— Tara Thompson, Canadian Beats

"One of the most personal, raw & revealing records you'll ever hear in your life."
— Sleepingbagstudios

"Vaultry is off to a good start with Coven but hopefully it just hints at their potential."
— Ted Rogen, No More Division

"Even though we're simply in the beginning days of 2017, Eulogy will undoubtedly be one of the most gut-wrenching albums that will fall upon listeners all year long." 8/10
— Soundfiction

"Vaultry has re-invented the sounds that we grew up with - the incredibly driving varied drumbeats coupled with a consistent bassline, clean, accurate and emotional guitar riffs, and sublime vocals with an enviable extent and range."
— Jessy Savage, Do250
No audio samples have been linked to this profile.
Articles
Videos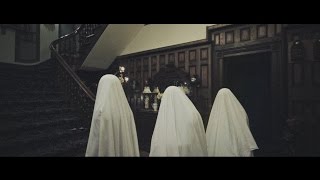 Current Lineup
| Name | Role | Dates |
| --- | --- | --- |
| Leith Hynds | Lead Vocals / Programming / Keys | 2014-present |
| Bradford Davis | Guitar / Vocals | 2014-present |
| Josh Christensen | Bass / Vocals | 2014-present |
| Skye Mclean | Drums / Percussion | 2014-present |
| Damian Anthony | Guitar / Vocals | 2016-present |
Past Members
| Name | Role | Dates |
| --- | --- | --- |
| Julien Ryhorchuk | Bass | 2014-2015 |
| Chasen Fraser | Guitar / Vocals | 2014-2016 |
Status:
Available for Shows/Gigs
To enquire for bookings please email: vaultry.booking@gmail.com - Last confirmed Feb. 5, 2017