Wed. June 14th
4:05pm
Tarrus Riley with Dean Fraser & The Blak Soil Band
,
The Black Seeds
,
Mad Caddies
,
The Skints
,
Jah9
,
Mike Love
,
Skampida
,
Perro Bravo
,
Burnt
,
Los Furios
,
Roots Roundup
,
Batuque Axé
,
Illvis Freshly
,
Sweet Leaf
,
The New Groovement
,
Mística
,
Rusty Zinn
,
Boomshack
,
Cheko & The Lion Rockers
,
Yellowsky
$179.50
Sweet Leaf
from Victoria BC
Tracks (4)
Formed in Victoria in 2011, SweetLeaf is Victoria's hardest-working and hardest-partying ska band. The members of SweetLeaf are seasoned Ska & Reggae Fest veterans, this year marking their third consecutive appearance. The group began after singer-guitarist Chris Jones answered an online ad, with the band then forming in just a few months. Their reggae-rock rhythms are reminiscent of hanging out with friends at the beach, drinkin', smokin', and straight West Coastin'. This local super-band performs with a punchy attitude contrasting the nature of their name.

With a three-piece horn section, SweetLeaf's collaborative ska sound also pulls in influence from funk, soul, and punk. These boys know how to command a stage and keep an audience dancing. Having just released their debut LP, Stress Leave, SweetLeaf embodies new-age Canadian ska and reggae vibe.
Audio Samples
| Track | Play | Save |
| --- | --- | --- |
| Glory Hole | | |
| Smile And Nod | | |
| Blood Spatter | | |
| Just A Blip | | |
View all tracks for this artist (4)
Articles
Videos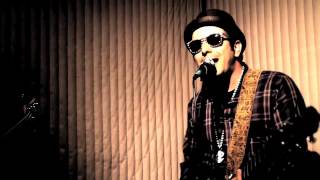 Current Lineup
| Name | Role | Dates |
| --- | --- | --- |
| Jason Ramalho | Sax | 2012-present |
| Chris Jones | Vox / Guitar | 2012-present |
| Zack Knippel | Bass | 2012-present |
| Michael Luis | Drummer | 2012-present |
| Nick Brandle | Percussion | 2012-present |
| Spencer Lee | Trombone / Producer | 2013-present |
Status:
Available for Shows/Gigs
- Last confirmed Jan. 13, 2016