| | |
| --- | --- |
| | |
Tue. March 28th
7:30pm doors at 5:30pm
nFuze
$10
nFuze
fusion from Victoria BC
In 2014 several experienced and like-minded Vancouver Island musicians came together to create a new melodic jazz fusion conglomeration inspired by greats like Pat Metheny, Billy Cobham, Weather Report and Chick Corea.

nFuze was spearheaded by the energetically fierce drummer Andy Okell- a creative and driving force to be reckoned with.

Sheldon Bordal, the newest member and bassist for the group brings a musical sensibility and pragmatism, grounding the mix with great tones.

The inventive Denis Berger plays numerous percussive objects and instruments including alto sax, enriching and punctuating nFuze's sound with rhythm and musicality.

At the melodic heart of the band are Dean Wolfe on guitar and Dee Cooper on keyboard. Both are prolific writers of intriguing melodic compositions that both honor jazz tradition and stretch its boundaries 'to infinity and beyond'.

The common thread for this quintet is the compulsion to play live shows that are exciting, inspiring and undeniably electrifying.

Enjoy with open ears and heart and you will find yourself lifted higher.
No audio samples have been linked to this profile.
Articles
Videos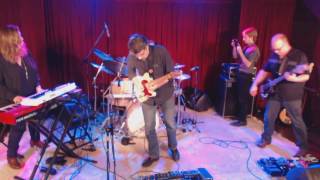 In this Video
Artist(s)
nFuze
Posted: Dec. 2, 2016
Past Members
| Name | Role | Dates |
| --- | --- | --- |
| Denis Berger | percussion | 2014-2015 |
Status:
Available for Shows/Gigs
- Last confirmed Jan. 24, 2017