| | |
| --- | --- |
| | |
Quinn Bachand's Brishen
Label:
Indie
Gypsy Jazz from Victoria BC
"Brishen", a Romany word for "bringer of the storm", is exactly what 19-year old Quinn Bachand and his talented band serve up each time they perform. Think Django Reinhardt and current players like Biréli Lagrène and Sylvain Luc, as this talented teenager and his fellow Brishen-ers,, lay waste to Django classics and Hot Club-esque originals alike.

Belying his tender years, Quinn's seasoned expertise has already earned him the 2014 Saga Djangofest Award, a nomination for "Instrumental Album of the Year" (Western Canada Music Awards), a finalist position as "Emerging Artist" by Canada's Walk Of Fame, and a Quinn-tessential 5 nominations at Canada's Folk Music Awards, including Ensemble of the Year, Instrumental Album of the Year, New Emerging Artist of the Year, Young Performer of the Year and World Group of the Year. As if all of this wasn't enough, the fact that he was offered a 4-year bursary (worth over $250,000) to Boston's prestigious Berklee College of Music, can only add to honing his significant talents even further.

Quinn and Brishen burn and swing their way through Reinhardt covers, freshly-constructed originals and trad tunes in the Hot Club tradition of 1930s Paris, including the twisting of more contemporary tracks like Bernard Hermann's theme from Taxi Driver, Radiohead's "Nude" and even a Guy Lombardo arrangement. Yet, what comes out the other side is 100% pure gypsy soul, conjuring up the smoky bistros of France from a more innocent time before music was amplified and when string bands were all the rage.

All sharp attacks, fast runs and quick-paced vibrato, Bachand's contributions on lead and rhythm guitar, violin and tenor banjo prove jaw-dropping on songs like Django's effervescent "Belleville" and especially the darkly sweeping, entirely reformulated "Nude". As the band positively explodes across the energetic Muldavian chain dance tune, "Corágheasca" – a rapid succession of notes played with such blinding speed as to defy belief, it's clear that this collision of free-spirited bop, jubilant jazz, Western swing and klezmer moves these players to heights not otherwise realized in any other single musical genre.

Contrast the sophisticated jazz technique applied to the highly Parisien-flavoured "Annie's Waltz", as Quinn's deft acoustic touch dances over warm bass and authentic '30s-era accordion accompaniment. The rhythmic swing of another original," The Richard Moody Blues" is an homage to the Reinhardt and Charlie Christian Schools. Quinn's own "Grannie Swing" – dedicated to his spicy Spanish grandmother (sitting astride her motorcycle in the CD artwork) – ups the time signature in a dazzling display of fluidity and confidence.

The Gershwins' "Lady Be Good" takes on the same country feel that Texan Bob Wills lent it back in the late '30s with its distinctive wall o' fiddles sound while songs like Lombardo's "Coquette" – ¬ featuring Wier's studied vocals, Bachand's bouncy, bold guitar, and the warmth of Smith's well-seated acoustic bass – demonstrate this band's stranglehold on absolute artistry and adventurousness.

Indeed, the wonder of Brishen, as a spirited storm itself, is that it knows no bounds, forever changing the landscape with awe-inspiring effect.
​​
No audio samples have been linked to this profile.
Articles
Videos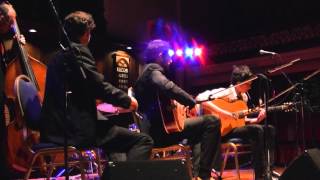 Status:
Available for Shows/Gigs
Residing in Boston 9 months of the year. - Last confirmed Nov. 20, 2015