| | |
| --- | --- |
| | |
Mad Riddim
from Vancouver BC
Mad Riddim is a mash-up making, drum and bass led groove machine, mixing classic dub sensibilities with the attitude of funk and the improvisation of jazz.

Formed in Vancouver BC by drummer Richard Brown a.k.a Rb Drums and bassist Matt Reid, Mad Riddim is founded on an intuitive musical connection and a shared vision of pushing the traditional boundaries of a rhythm section.
No audio samples have been linked to this profile.
No member roster has been entered (to link to musician profiles.)
Videos
Posted: Jan. 6, 2021
Filmed: Jul. 4, 2020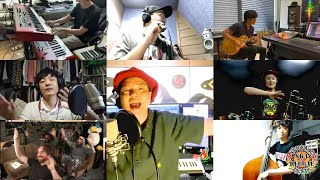 Posted: Oct. 2, 2020
Filmed: Sep. 10, 2020
Posted: Aug. 31, 2020
Filmed: Jul. 4, 2020
Status:
Available for Shows/Gigs
- Last confirmed Mar. 27, 2018