| | |
| --- | --- |
| | |
Ramming Speed
Thrash metal / Grind / Punk / Rock n roll from Boston Massachusetts
Label:
Prosthetic Records
Ramming Speed have been pounding the highway hard since 2007. Borrowing heavily from d-beat punk's charging rhythm, NWOBHM's twin guitar harmonies, thrash metal's aggression and grind's blinding speed, we have have released one cd, four records, and two tapes on six different labels. Touring has covered the entire US many times over, along with 14 other countries, including the UK, Iceland, Czech Republic, Germany, Sweden, Spain, Italy, Poland, Austria and beyond. The band has toured/done one off's with Trap Them, Torche, Municipal Waste, Phobia, Holy Grail, Toxic Holocaust, Black Tusk, Doomriders, Saviours, Revocation and many more.

In the beginning it was "Write metal punk song, release 7", go on tour, repeat" but over the last two years we took time to pause and refine our craft - the results of which are upcoming full length "Doomed to Destroy, Destined to Die" (recorded by Kurt Ballou).

The Blog Noisecreep.com called us "One of the hardest-working bands in heavy metal" and after our set at Czech Republic festival Obscene Extreme Terrorizer Magazine printed that we were the "band of the decade" and stated "Why their set wasn't extended for, well, the rest of the weekend will remain a mystery. Looks like we'll have to make do watching their videos. On repeat. Forever.".

We have a regular guest column on DecibelMagazine.com and MetalInsider.com and are committed completely to all of the sweaty, sleepless nights it takes to keep the band on the road. See you at the show.

"Get this album, crank it up all the way, and rock out until you see double. Say hello to Ramming Speed and goodbye to your brain cells!" -Liveformetal

Exclaim.ca Record review -

"Municipal Waste are heralded as heroes of thrash's recent resurgence due to their D.R.I.-meets-Nuclear Assault onslaught. However, Ramming Speed may very well usurp the kings thanks to the sheer brutality and assault of debut full-length Brainwreck. With its thrash riffing, crustcore blast beats and death metal gurgling (circa Entombed's Left Hand Path), it's a veritable cesspool of extremities fornicating in their own filth and vomit. And just when it seems as if they couldn't become any more disgustingly brutal, a wave of Black Flag-ish hardcore washes over the sullen mess with epic chant-along choruses. Naturally a few solos pilfered from Cryptic Slaughter meander their way into the fold, rendering Brainwreck a pretty descriptive title. It's redeeming to see this whole gutter-swine element coming back into the world of heavy metal/crossover and with these 13 tracks of overbearing cacophony ("Shane Embury Is The Brad Pitt Of Grindcore" is brilliant in title alone), Ramming Speed deserve to lead the charge."

MP3: http://tdbrecords.com/RammingSpeed/ANSsplit/4.Ramming%20Speed-Perdition.mp3
Description
We play through Emperor Cabs, Lace Pickups and SJC drums.

Live video with interview: http://basementdaze.tumblr.com/post/5194904183/vol-1-ramming-speed
No audio samples have been linked to this profile.
Current Lineup
| Name | Role | Dates |
| --- | --- | --- |
| Kallen Bliss | Guitars | |
| Snake Chuffskin | Guitars | |
| Jonah Livingston | Drums | |
| Peter Gallagher | Vocals | |
| Ben Powell | Bass | |
Videos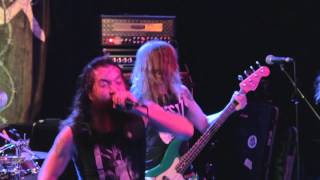 Status:
Unknown
- Last confirmed Nov. 28, 2013