| | |
| --- | --- |
| | |
Mon. December 12th
1900
Wham's Last Christmas! All Together Now Sings!
The Choir
$7
The Choir
Choir from Victoria BC
Upcoming Shows (1)
Past Shows (17)
Victoria's The Choir is a non-auditioned, community choir that sings all-original arrangements of pop, folk and indie music. What started as a small project based out of Larsen Music in early 2013 turned big in no time: 100 great people who love to sing their hearts out! The Choir has had a string of very fun and successful concerts, and performances at Rifflandia 2014 and 2015, and the 2015 Campbell Bay Music Festival. We've taken the stage with Kathryn Calder, Adam Cohen, Pharis and Jason Romero, Choir!Choir!Choir!, Aidan Knight, Sara Marreiros and more. The Choir is directed by Marc Jenkins and accompanied by Danuel Tate.

The Choir was started by first director Anne Schaefer, who laid the initial foundation for all that has followed. After a year, Anne left to travel the world, and has since returned to Victoria and started The Collective.

The Choir sings songs by U2, REM, Magnetic Fields, Bruce Springsteen, Radiohead, St. Vincent, Talking Heads, and more!
No audio samples have been linked to this profile.
Videos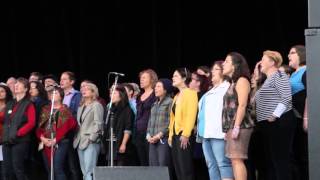 Posted: Apr. 26, 2016
Filmed: Sep. 18, 2015
Posted: Apr. 26, 2016
Filmed: Dec. 15, 2016
No member roster has been entered (to link to musician profiles.)
Status:
Available for Shows/Gigs
- Last confirmed Apr. 26, 2016
Submit info on this band to our admins