The Bangin Lucy Band
Label:
Dewey Knows Music
Rockin' Blues from Valley BC
Tracks (10)
Rocking Blues you can really groove to. This trio is made up of veteran artists from three corners of Canada. Ryan Tedesco (Bass/Vocals), Russ Steiner (Drums/Vocals) and John Dery (Guitar /Vocals). The Bangin Lucy Band puts their brand on covers and originals they really get the crowd jumping!!
Bang the gong baby!!
Audio Samples
| Track | Play | Save |
| --- | --- | --- |
| Little Sister | | |
| Just a Little | | |
| Back Door Man | | |
| | | |
| Lonesome Me | | |
| Uptown Came Downtown.... | | |
| Only Daddy... | | |
| I Know a Little | | |
| Courage | | |
| Badge | | |
View all tracks for this artist (10)
Articles
Videos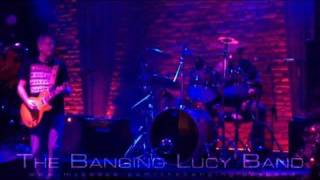 Status:
Available for Shows/Gigs
Song samples and typical set list on our myspace page. JD - Last confirmed Feb. 1, 2018