| | |
| --- | --- |
| | |
Mon. November 19th 2018
Wednesday 13 with guests
Wednesday 13
,
2 Shadows
,
ROAD RASH
Wednesday 13
Label:
Nuclear Blast
Horror Metal from Hollywood California
A grimly glamorous ghoul who first slithered from the cobwebbed shadows of Charlotte, North Carolina, in the early 90s, Wednesday 13 has firmly established himself as the world's premier purveyor of balls-out horror punk insanity. With a vivid and vile imagination that has endeared him to countless fans of riff-driven macabre over the last two decades, he has been one of rock's most prolific protagonists, spreading his credo of grave-robbing rock 'n' roll and Hallowe'en debauchery around the globe and unleashing a seemingly endless stream of blood-spattered albums and EPs.

"All my favourite stuff, like Kiss and Alice Cooper and Twisted Sister, those guys set the bar pretty high," he states. "I always wanted to do something in the worlds of those bands. That's the blueprint. It had to be as outrageous and crazy as that and I wanted to be on someone's wall one day and have their parents say 'Oh my god, what is that?' The formula's still there from when I started doing it as a kid and started wanting to be in a band. It's just GI Joe and Dracula!"

In musical terms, Condolences showcases Wednesday's growing obsession with the world of heavy metal and its endless possibilities for exploring tales of horror and violence. Produced by renowned studio guru Zeuss, new songs like anthemic first single 'What The Night Brings' and the pile-driving 'Blood Sick' still exhibit a dash of B-movie weirdness and are full of Wednesday's trademark twisted lyrics, but where previous albums were rooted in the worlds of punk rock and glam metal, Condolences is a full-on modern metal record with gigantic balls and the attitude to match. From the glowering menace of 'Good Riddance' to the grandiose hellishness of the album's 7-minute title track, it's living, breathing, murdering proof that the Wednesday 13 of 2017 means business. And business is mean.

"The punk rock vibe has left the building and it's become a full-on metal vibe," Wednesday agrees. "I've been the horror-punk guy for years, but this is horror metal. It's just evolution. Over the last ten years I've become a metalhead for the most part. That second Murderdolls record just amped the whole thing up, and the guys in the band have influenced me with so much other stuff. It's not just me with my Sex Pistols, Alice Cooper and Ramones records anymore! Now I've got my band incorporating everything from death metal to rock'n'roll. It's all across the boards. There are no rules. We can do whatever we want, whatever fits."

Manifestly the strongest, heaviest and most individual album of his lengthy career, Condolences promises to push Wednesday 13 into heavy music's upper echelons once again. With determined plans to tour relentlessly in support of the new record, the future is looking dark, dangerous, exhilarating and wildly, unapologetically theatrical.
No audio samples have been linked to this profile.
Articles
Videos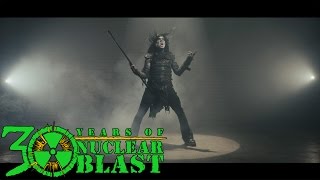 No member roster has been entered (to link to musician profiles.)
Status:
Un-Available: Writing/Recording
International Touring Act - Last confirmed Oct. 17, 2018